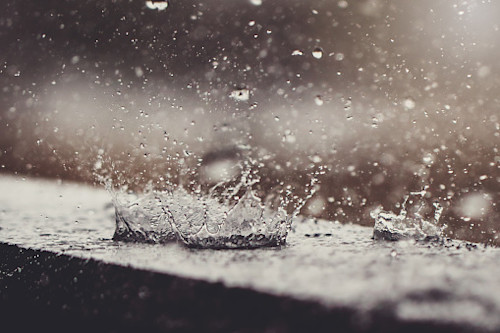 The Weather Network – A new atmospheric river flows into British Columbia with a threat of more than 100 mm of rain
Another atmospheric river forms on the coast of British Columbia this weekend. Periods of rain will gradually intensify as the moisture plume moves from north to south. We are monitoring the potential for triple digit precipitation totals in parts of the province.
People across British Columbia spent Friday cleaning up trees and power lines downed by the gusty winds that accompanied the region's first atmospheric river a day earlier. These winds knocked out power to more than 40,000 customers across the province at the height of the storm.
---
WATCH: British Columbia's 'stormy' pattern won't flip the switch on current drought
---
Special weather reports and a rain warning are in place.
Winds will pick up over coastal regions on Saturday as the next system approaches the province. Communities on the north coast could see wind gusts of over 60 to 80 km/h by Saturday afternoon. Gusty southeast winds are also expected in the Strait of Georgia from Saturday night into Sunday.
Maximum wind gusts along exposed sections of the south coast will reach around 60 km/h. However, no ferry cancellations are expected given the magnitude of the wind speeds.
The region's next atmospheric river will also bring the potential for very heavy precipitation and high altitude snowfall early next week.
The transition to heavy rain is expected late Saturday afternoon for Western Vancouver Island, Saturday night for the Sunshine Coast and Howe Sound and Metro Vancouver, and Sunday morning for the Fraser Valley.
This could interfere with any outdoor Halloween plans during the evening hours.
WATCH: BC Hydro warns of power outages this storm season
Significant rain will fall during this period and further rain warnings are likely to be issued as the event approaches. Total rainfall will vary depending on the terrain, but a further 50-150mm could fall throughout the weekend.
Forecast models suggest that this next atmospheric river will be classed as AR2 – providing beneficial rainfall, but still worth watching for some localized hazards.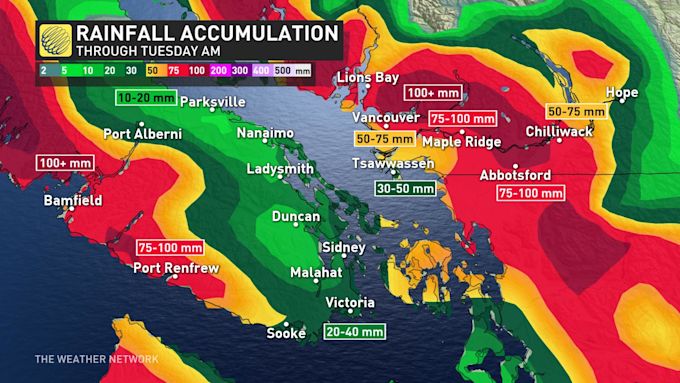 Lesser rainfall amounts are expected over eastern Vancouver Island, Victoria and southwestern sections of Metro Vancouver due to rain shadow effects.
While these waves of moisture appear to be bringing much-needed rain to drought-stricken areas of British Columbia, excess moisture over a short period could also pose a threat of localized flooding. Dry soils have difficulty absorbing moisture. Persistent drought conditions combined with heavy rainfall could lead to more water running off than it absorbs into the ground.
Droughts also don't go away immediately, and it often takes multiple systems to tip the scales toward a more traditionally wet pattern.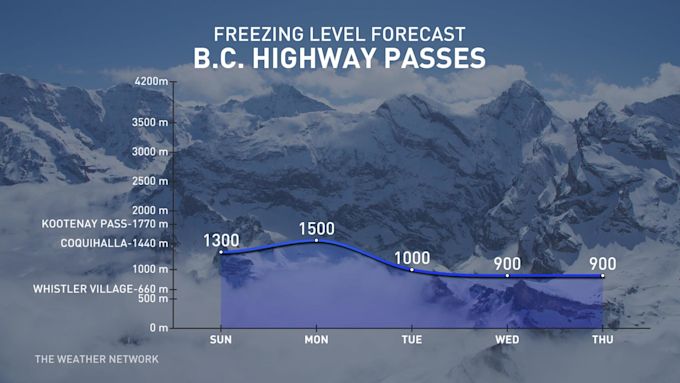 Freezing levels are expected to soar up to 1800 meters for the south coast, peaking early Monday, so expect some disorderly travel across some of the mountain passes this weekend as well. Most precipitation fails to penetrate inland through the interior, but risky travel is possible across Eagle and Rogers Pass with heavy, wet snow through Wednesday.
While the month appears to be ending on a drier spell, not for coastal communities, British Columbia could face the prospect of another atmospheric river heading towards the end of next week.
Be sure to check the latest conditions in British Columbia