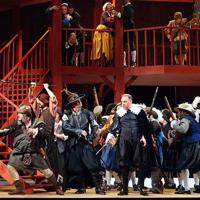 The joys (and sometimes sorrows) of co-productions: 'Falstaff' | Opera
Turn to the Falstaff section in this year's program book and you will see the phrase 'Co-production with Scottish Opera'. Such ventures are increasingly popular in opera; recent examples in Santa Fe include 2019 The thirteenth child (with Odense Symphony Orchestra) and 2017 The (R)evolution of Steve Jobs (with Seattle Opera, San Francisco Opera and Indiana University Jacobs School of Music).
Here we will see how the Falstaff co-production began and how the Santa Fe production team is solving some of the challenges that entails.
At its most basic level, a co-production occurs when multiple companies pay for sets, costumes, and properties. The production is then shipped to the various companies when they are ready to perform it, often with a set and costume supervisor from the originating company.
Yet they often don't provide much savings compared to renting sets and costumes.
For Charles MacKay, long-time general manager of the Opera Theater of Saint Louis (1985-2008) and Santa Fe Opera (2008-2018), the real benefits of co-production are not financial. They are in what is seen on stage. "I view them as an investment in artistic integrity," he says. "By pooling the resources of multiple companies, you can create better production, and you may be able to hire a more prominent director and design team."
MacKay should know: his extensive background includes multiple co-productions at both companies, including Steve Jobs' opera. Another gratifying aspect can be attracting (or restoring) wider attention to a worthy piece. "John Adams" Nixon in China languished after its 1987 premiere," he says, "and we lined up six or seven companies for a 2004 co-production that originated in St. Louis and really helped put it back on the map.
Like many aspects of opera, co-production is not as simple as it seems. It often stems from discussions at the CEO level, as in the case of Falstaff. Director Sir David McVicar came to Santa Fe in the summer of 2019 to start planning for a future Falstaffbut plans were put on hold by the pandemic.
Around the same time, his ongoing staging of Puccini Il Trittico at Scottish Opera was scuttled. Not only was it slated for indoors, but it would have been expensive, with three completely different sets, and two of its three segments are tragic. McVicar and his production team have agreed on Falstaffwhich could be staged outdoors and was decidedly more optimistic than Trittico. It turned out that the Santa Fe Opera was interested in co-producing it.
The outdoor production premiered in Glasgow last July atop a temporary platform in the car park of their stage store. Reviews of the original performances were rave reviews. The Timethe Guardianthe Nationalthe Scottishthe Heraldand the Telegraph all gave it four or five star reviews, with the Telegraph commenting: "David McVicar brings opulent beauty to a Glasgow car park. [Falstaff is] as luxurious as it is joyful.
In a co-production, making the set compatible with stages of different sizes and configurations can be a major challenge. Sometimes that means subtracting scenic elements or building alternate parts in smaller dimensions to fit. Sometimes that means adding decorations. (The latter arrived with Santa Fe Opera's La Donna del Lago, a 2013 co-production with the Metropolitan Opera; his huge stage required more sets, as well as a video substitute for our backdrop of the Jemez Mountains.)
The Falstaff The ensemble evokes an Elizabethan theatre: a raised play area at the rear which is covered by a large wooden canopy, with stairs on either side leading up to it. "It looks great on our stage," says production manager Chelsea Antrim Dennis. "Scottish Opera really considered the size and shape of our theater when designing it."
Even such a seemingly simple set of units, with no moving parts and no set changes required, can create challenges, especially given Santa Fe's rotating repertoire schedule. Dennis and SFO Technical Director Mike Ortiz, described one challenge that was planned and one that was not.
"In Scotland, they put the set on stage and just left it there for the performance," says Ortiz. "Here, we need to be able to completely run one production in 90 minutes or less, and load another in the same amount of time. This basically meant cutting the set into smaller pieces and then placing them on decking sections with rollers underneath so they could be moved quickly.
But the metal trusses used to support the canopy became a problem. "Scottish Opera has built two sets of these, one for outdoor performances and the other for use in a [traditional proscenium-arch] theater," says Ortiz. "By mistake, they sent us the outdoor version, some of which won't work on our stage." Fortunately, the opera was able to locate farm equipment made to metric dimensions in this country. (Ironically our English style measurements in inches and feet are not compatible with UK built sets.)
Dennis mentioned another problem that often arises. "The terminology can be very different from country to country," she says. "In Italy, they don't use the garden on the right and the garden on the left. They will use the street names on either side of the stage. This is what is painted on the sets themselves. I had to do some research on google maps to find out which side is which. In the case of La Scala, it is Via Giuseppe Verdi for the left of the courtyard and Piazza della Scala for the right of the courtyard; Via Arrigo Boito, named after the Falstaff librettist, runs behind the theater.
Sometimes it's hard to match the set to the theater when a co-production goes to its second room, and sometimes it's hard to match the costumes to the singers. that of Santa Fe Falstaff The soloists differ so much in size and shape from their Scottish predecessors that the company is building elaborate new Jacobean-era costumes for most of them, says costume director Blaire Gulledge.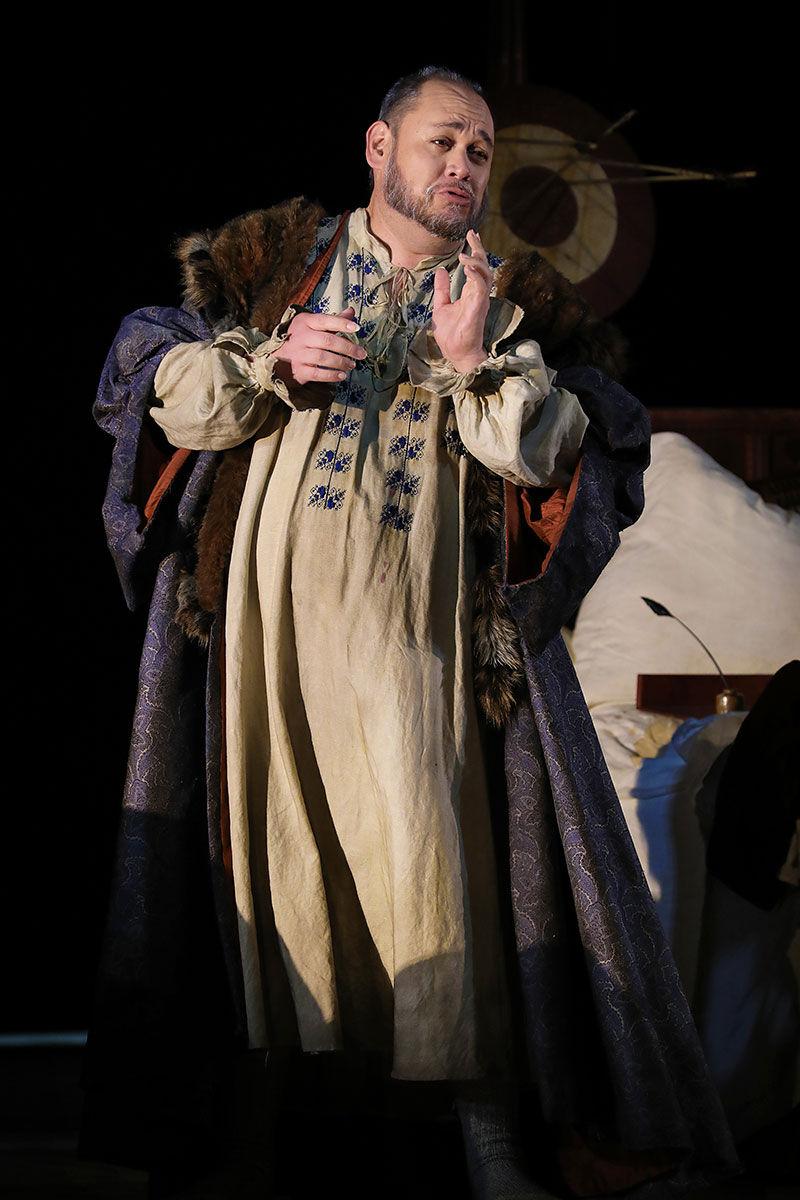 "We had the original costumes sent over so we could work from them, which was really helpful," says Gulledge. "We tried to get them here earlier, but it was too expensive. [to ship them separately], so they came up with the landscape. This created a big challenge because we couldn't figure out how many or which ones we needed to build until they got here.
The fewer the better, for the bottom line anyway.
That's a lot of costumes to build, especially since 28 choir costumes are also being made. (The original performances were under coronavirus conditions, so the choir sang from backstage in street clothes.) In total, says Gulledge, "we build six costumes here and there are five or six that we shoot and adapt . Fifteen female costumes are being built in Connecticut, and all of the male backing vocals come from the Steppenwolf Theater Costume Shop in Chicago.
This is not an unusual situation, especially with such a large production (and season). The Santa Fe costume store isn't big enough to build everything here, so outsourcing costumes to other stores is common practice.
Key things to know – including people, plot and playwright – to prepare for SFO production.
There are two positive sides to all of this. The company was able to find supernumeraries who could fit their suits, rather than the other way around, and main Scottish suits are used for understudy. Yes, even they have their own costumes, partly because they're so intricate – a woman's costume can have seven or eight layers, plus a hat – and because there's more likely to be a lining or two are called upon to play, what with the prowling COVID-19.
Even with the workload and schedule challenges, Gulledge is excited about the production. "It's exciting for us because there are so many materials and textures in these costumes. They are beautiful, they are luxuriousand that's what people secretly hope for.
The costume design process was greatly facilitated by the presence of Lorna Price, Costume Manager for Scottish Opera, as well as the Associate Costume Designer for this production. (McVicar is something of a Renaissance man, as befits this opera. He designed the sets and costumes, with an assistant in each area, while directing it.) Price and Gulledge met in New York last fall to review choir costume designs and purchase fabrics for them, and she has been on site for two extended periods in 2022 ahead of opening night.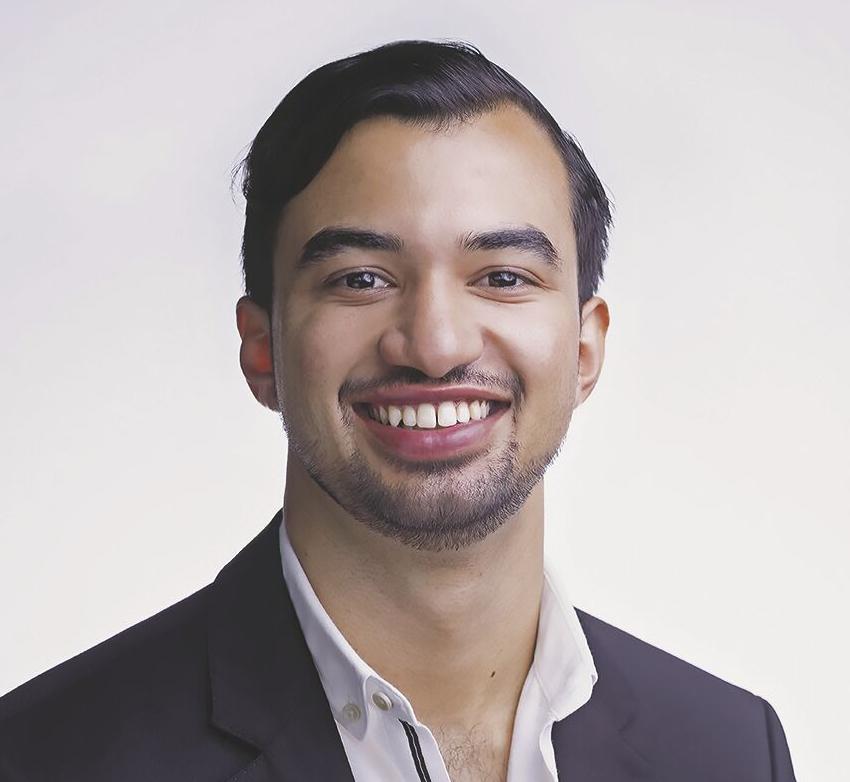 The tenor reprized Fenton in Santa Fe Opera's production of Falstaff.
Price is excited about Santa Fe ("I love it here! I want to move.") and another benefit of the co-production collaboration. "I've been doing this for 30 years now and here at your opera I just learned about this revolutionary method of making fat padding," she says. "It's a honeycomb-like material that can give you volume without using layers and layers of batting.
"You can even put ice packs in there, which will be wonderful here. [Traditional fat suits are notorious for being very hot.] What looks like heavy rolls of grease are added on top, using a beanbag-like material. And it can be washed! I'm definitely bringing this back to the UK"