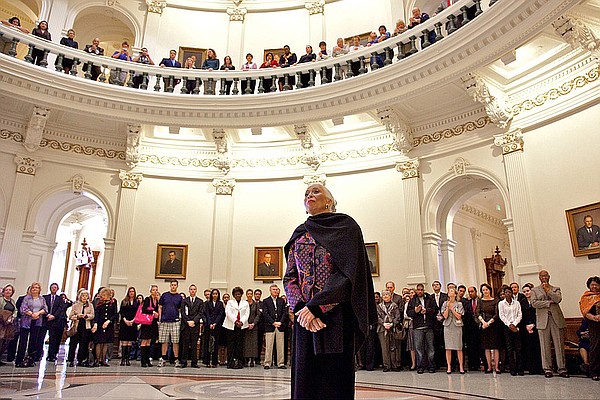 The Cass County opera singer is a shining star
(EDITORS NOTE: This is the second in a series of stories that will air each Sunday in February to commemorate Black History Month.)
If you're not familiar with the name Barbara Smith Conrad, that's a shame, but perhaps not surprising.
Conrad, a mezzo-soprano who sang with the Metropolitan Opera for eight years, performed around the world and shared the stage with some of the best orchestras of her time, did not receive local fame and fanfare that other musical luminaries in this region have – people like Scott Joplin, Conlon Nancarrow, Otis Williams, Don Henley and others.
But local Conrad surely was, having been born in Atlanta, Texas, raised in the Center Point community near Pittsburgh, and attended school in Queen City, about 22 miles south of Texarkana.
Born in 1937, she was also a trailblazer when she headed to college, being part of the first class of African-American undergraduate students at the University of Texas.
There, in Austin, Conrad's story becomes more complex, in a more troubled way but also in another way as an example of undeniable talent coupled with personal strength and dignity.
While an undergraduate, Conrad was cast as the lead in the college production of "Dido and Aeneas". Normally that would be considered a great accomplishment, but in 1957 America did nothing but highlight a racial divide and racial injustice.
Conrad was cast as Dido, Queen of Carthage, for Aeneas, a schoolmate's Trojan hero, in this opera by Henry Purcell about their thwarted love, a story based on Virgil's Latin epic poem "The Aeneid ", a monumental classic in the canon of literature.
But the classmate was white, and this bi-racial casting sparked a Texas-sized controversy, so much so that a state lawmaker from his district, Joe Chapman, spoke with the university's president about damaging publicity. , according to a 2017 article by Neil Abeles that ran in the Gazette the year the opera singer died.
Eventually, Conrad was removed from his post. This surprising encounter with a racist reaction to his talents caught the attention of national publications like Time. Despite this setback, the singer continued her education at UT and traveled to New York to earn her many hits.
A documentary film about his life called "When I Rise" was screened at Texarkana College in 2018 as part of its Black History Month series.
Mary Scott Goode, one of TC's music teachers, said her interest was sparked by reading Abeles' cover of Conrad's life.
This coverage includes his funeral service at Center Point Baptist Church, which was his childhood church. Center Point, according to the New York Times obituary of Conrad discussed in a story by Abeles, was founded by freed slaves and was an all-black community. Part of young Barbara's life was spent there.
Goode realized that a documentary about Conrad's life would be the perfect kind of thing to show at TC.
She was "not only a great talent, but a beautiful woman inside and out," Goode said. "Worthy, an honor to the profession, a true professional, just a class act in every way. And what a story, what a picture of life…"
Goode noted that Conrad's participation in the first class of African-American undergraduate students at UT would not have happened at Texarkana College.
"We could have been her college, but she wouldn't have been allowed to enroll at Texarkana College," Goode said. "We weren't integrated then either."
When Conrad, who was born Barbara Louise Smith, was cast as Dido, word spread that she was opposite a white man, making them an interracial couple, Goode explained. In addition to Chapman, other lawmakers have become involved.
She was informed by the Dean of the College of Fine Arts that for her own well-being, she would not appear in the production.
"It's national news. She was facing threats and intimidation," Goode said. "It was kind of par for the course." Other black students had faced similar resistance.
Goode says Conrad left school for a while, but then returned to complete her degree. Acclaimed actor Harry Belafonte offered to help her go to school elsewhere, but she stayed in Austin. He helped Conrad when she went to New York, Goode said, but she had to overcome difficulties to get there.
"She finally had a few breaks… She finally broke into the opera world and was a huge hit from then on," Goode said. "She sang at the Met, she sang in Europe. She had all kinds of opportunities."
Conrad attributed some of his success to his musical experiences at the Church of Northeast Texas at Center Point.
"I think she's a wonderful role model of someone who perseveres to succeed, perseveres to get an education first and foremost. She doesn't let anything get in the way of her goal of getting an education. She's chasing her dream." , Goode said. "She follows her talent. She also works hard at it. Things haven't all fallen into her lap. She's worked hard for it. She's trained in every way possible, and that's always the message for a professional musician. You need your training. You work hard at it. And people who work hard get somewhere in life.
Dr. Don Carleton, executive director of the Dolph Briscoe Center for American History at UT, served as executive producer of "When I Rise," which premiered on the PBS series "Independent Lens" in 2011.
The documentary directed by Mat Hames was selected for inclusion in a number of film festivals in 2010.
Looking back on Conrad's story, he sees his legacy as one of reaching beyond the past to heal in the present.
"Human beings have a capacity for healing, reconciliation and forgiveness," Carleton said.
Despite this controversy with the theater cast at UT, Conrad graduated in 1959 and was later named a Distinguished Alumnus in 1985 by the Texas Ex-Students Association. UT also founded the Barbara Smith Conrad Endowed Presidential Fellowship in Fine Arts, and she herself has worked with the Briscoe Center to preserve records that document her life and distinguished career as an internationally acclaimed opera singer.
"The most important thing to me is really what Barbara's story means for the campus today," Carleton said. Here's a person who faced severe discrimination on campus and went from having a bitter and disappointing experience to really taking life into their own hands and persevering, he said, noting that she went on to teach master class at UT.
"Moving forward, these things can be done," Carleton said of healing and bringing people together despite the adversity of the event so typical of civil rights-era stories.
Conrad died on May 22, 2017 in Edison, NJ She was 79.
(EDITORS NOTE: This story was created from two stories published in the Gazette in 2017 and 2018 by Neil Abeles and Aaron Brand, respectively, with Brand's story providing the setting for this story.)