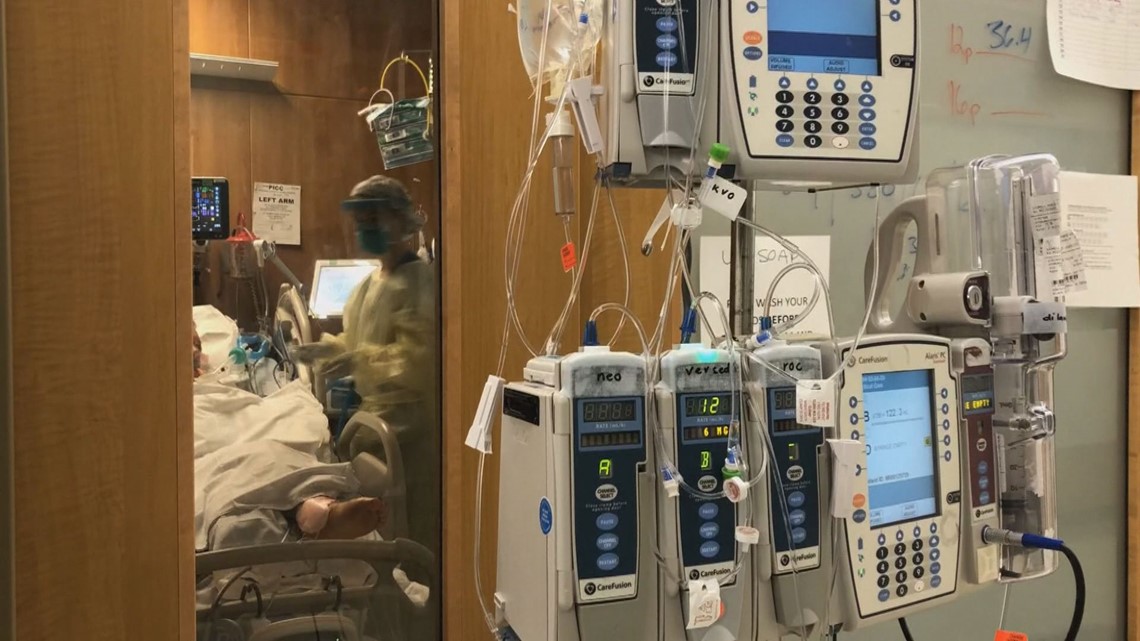 St. Louis pandemic task force receives help from federal government
"The current outbreak of COVID-19 is the most challenging disaster ever faced by health systems in the St. Louis area."
ST. LOUIS — An approximately 40-member federal aid team is coming to help larger hospital systems in the St. Louis area as they deal with surges in patients due to the omicron variant of COVID-19.
The St. Louis Metropolitan Pandemic Task Force, which encompasses the region's four major health systems, has asked for help from the federal government. These systems include BJC HealthCare, Mercy, SSM Health and St. Luke's Hospital.
In a letter, the task force exposes the grueling climate that hospital systems face due to the omicron variant.
In part, it reads: "The current surge of COVID-19 is the most challenging disaster ever faced by health systems in the St. Louis area. We have attempted to weather this storm alone; however, we we are now at the point where we have to ask for help from the federal government.
Task force leaders pointed to record admissions and hospitalizations.
On Thursday evening, a spokeswoman for the task force confirmed that the aid had been approved. The spokeswoman said they were still working out the details, including what the team's work would entail. She said more information should be available in the coming days.
The latest figures from the task force show the seven-day rolling average of hospitalizations fell from 1,360 on Monday to 1,374 on Tuesday. This hit a new seven-day moving average record.
A new daily hospitalization record was also set for hospitalizations confirmed positive for COVID, rising from 1,377 on Monday to 1,444 on Tuesday.
The letter continues: "With each passing hour, our community is more exposed, not only to the spread of Omicron, but also to the delayed or inaccessible care it creates. Additionally, our healthcare workers are not at immune to this virus, falling ill or having to take time off work to care for a sick family member has put unimaginable pressure on our ability to care for the sick and injured.
BJC Healthcare has even limited elective procedures for the time being due to staff shortages. SSM Health has also limited some of its procedures.
Advocacy from the task force also shared that current resources are stretched beyond their limits to provide effective and safe care, calling this unsustainable.
That's why St. Louis health care systems are asking for help from the federal government to support staffing at our regional hospitals.
"Our hope is that our federal partners will quickly deploy resources to help our exhausted and demoralized workforce," the letter said.
With task force Dr Alex Garza saying that if the team comes, "It will be all patient care – doctors, nurses. Rather than scattering a small amount across geography, they will want them focus in specific areas, so they can have the most impact in the region."
It also comes at a time when everything is on deck.
Much like other hospital systems, Mercy asks colleagues in jobs other than patient care to sign up and help with tasks outside of their regular job descriptions, such as stocking and refreshing supplies. , transporting patients and assisting patients with daily care activities.
Overall, health systems remain committed to serving, but the letter says hospitals need the full support of the federal government to continue their mission.
In December, President Joe Biden announced new measures to protect Americans and help communities and hospitals fight omicron. In a White House briefing, Pres. Biden shared his plan to deploy additional medical staff and expand hospital capacity.
In late 2021, Missouri Governor Mike Parson allowed the pandemic-related state of emergency to expire, citing the availability of vaccines.
"The state stands ready to provide assistance and a response, but a state of emergency is no longer necessary," Parson said in the press release.
COVID-19 emergency orders have allowed hospitals to fill staffing gaps by shortening onboarding time, turning hospital rooms into intensive care units, and increasing the capacity to operate with more people. beds than they are legally permitted.
The Missouri Hospital Association represents all hospitals in the state and does education and advocacy on its behalf.
Spokesman Dave Dillon said within 24 hours of that expiration, they were able to grant certain waivers to the Department of Health and Senior Services that would allow certain functions to continue.
But Dr. Garza shares that there are still obstacles.
"The Missouri National Guard cannot be used for any COVID mission and that limits that capability from a personnel perspective," he says.
Dr. Garza says that if a federal team arrived, it could take less than a week to identify where the team would go.
From there, it would be a while before they could officially put boots on the field.
As for the others who are receiving help, right now there is a federal team stationed in Kansas City.
Read the full letter from the task force requesting assistance in the document below: