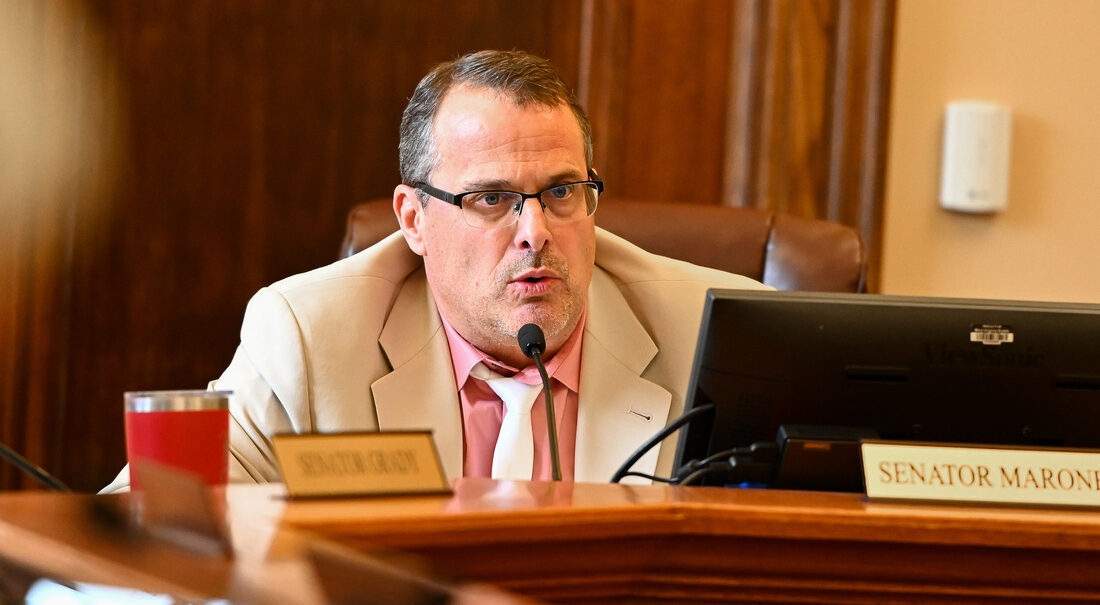 Senate Health Committee Passes Immunization Bill
Senate Health and Human Resources Committee Chairman Mike Maroney, R-Marshall, chairing the committee meeting March 8. (Will Price/WV Legislative Photography)
CHARLESTON, W. Va. – The Senate Health and Human Resources Committee on Tuesday approved a measure prohibiting government offices from requiring people to show proof of coronavirus vaccinations before entering public buildings.
Senators passed the bill recommending that the Senate approve the measure. The Senate Judiciary Committee will first review the legislation before consideration by the full chamber.
The legislation would prevent local and state government offices from requiring people to show they are vaccinated against the coronavirus in order to enter a hospital or buildings on university and college campuses. Buildings subject to federal laws would not be affected by the bill if it becomes law.
Senate Majority Whip Ryan Weld, R-Brooke, introduced an amendment to remove hospitals from the bill.
"The bill, as written, applies to private hospitals which are private companies. Everything else that is in the bill is a public entity," he said. "Having a private hospital there is kind of a private outlier because it's not controlled by the state."
Sen. Ron Stollings, D-Boone, wanted to modify the amendment to include private and public hospitals. After Stollings proposed the change, committee chairman Mike Maroney, R-Marshall, called a recess to meet privately with colleagues.
After the break, Weld withdrew the amendment.
The House of Delegates approved the legislation on March 1.