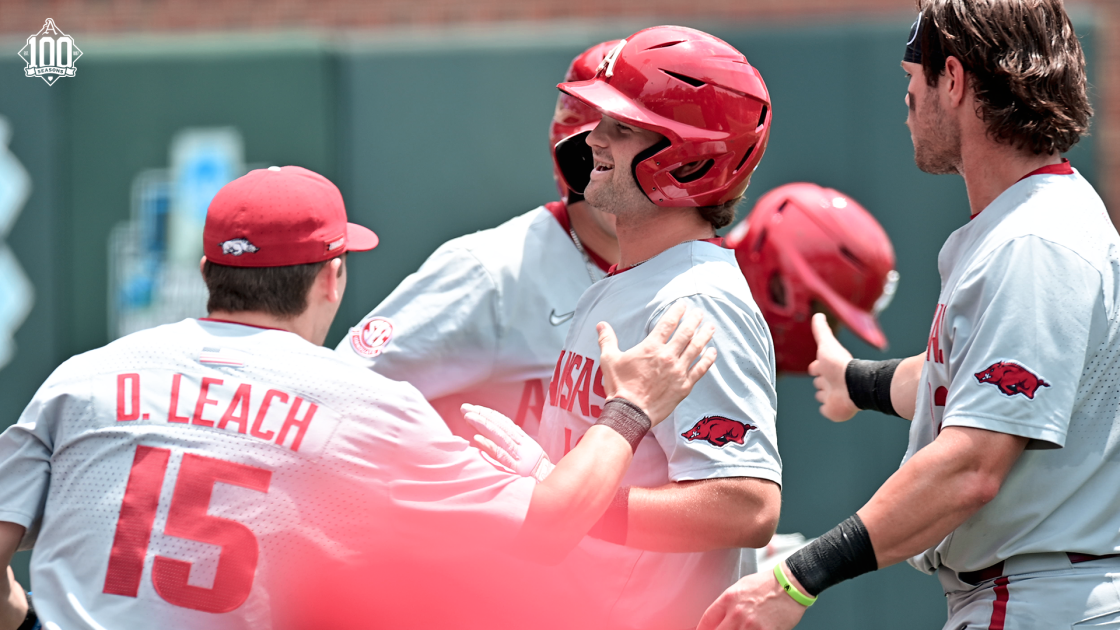 Noland and Stovall Spark Hogs in Win over Tar Heels
CHAPEL HILL, North Carolina – Arkansas (42-19) opened the NCAA Chapel Hill Super Regional with a 4-1 win over North Carolina (42-21) Saturday afternoon at Boshamer Stadium.
The Razorbacks are now one win away from securing their berth in the College World Series for the 11th time in program history. Arkansas can clinch the Chapel Hill Super Regional with a win tomorrow or, if necessary, Monday.
Arkansas starter Connor Noland pitched 6 2/3 scoreless innings with six strikeouts, going 7-5 on the season while recording his ninth quality start of the year. The right-handed veteran threw 61 of 89 pitches for strikes while allowing just six hits and one walk.
The Hogs spotted Noland with three runs in the first half of the fifth, starting with Peyton Stovall's first home run. The true freshman hammered the first pitch he saw over the wall to right center to put Arkansas up, 1-0.
After Zack Gregory and Braydon Webb reached, Brady Slavens stepped in and had his first of two RBIs on the day. Designated hitter Razorback ripped a single to center, driving Gregory home to extend the lead to 2-0.
Cayden Wallace capped the fifth-inning rally with a sacrificial left volley, scoring Webb from the third as Arkansas took control of the ball game opening up a 3-0 advantage.
Back-to-back walks to Gregory and Webb, who finished the afternoon with three team-leading hits, to start the top of the seventh gave Slavens another RBI opportunity. He didn't disappoint, driving one down the middle to score Gregory from third and put the Hogs ahead, 4-0.
The running support was more than enough for Noland and the Razorback bullpen. As North Carolina recovered one in the bottom of the eighth on a solo home run, Evan Taylor (1.1 PI, 1 SO) and Hagen Smith (1.1 PI, 1 SO) locked the 2 1 / 3 last innings in relief to secure Arkansas 4-1 victory.
Smith, who has been the Hogs' No. 2 starter for most of the year, made his second career save on Saturday. The true freshman recorded his first career save against Oklahoma State in the NCAA Stillwater Regional Final on Monday.
The first pitch between Arkansas and North Carolina in tomorrow's game is scheduled for noon CT on ESPN or ESPN2.
For full coverage of Arkansas baseball, follow us on Twitter (@RazorbackBSB), Instagram (@RazorbackBSB) and like us on Facebook (Arkansas Razorback Baseball).