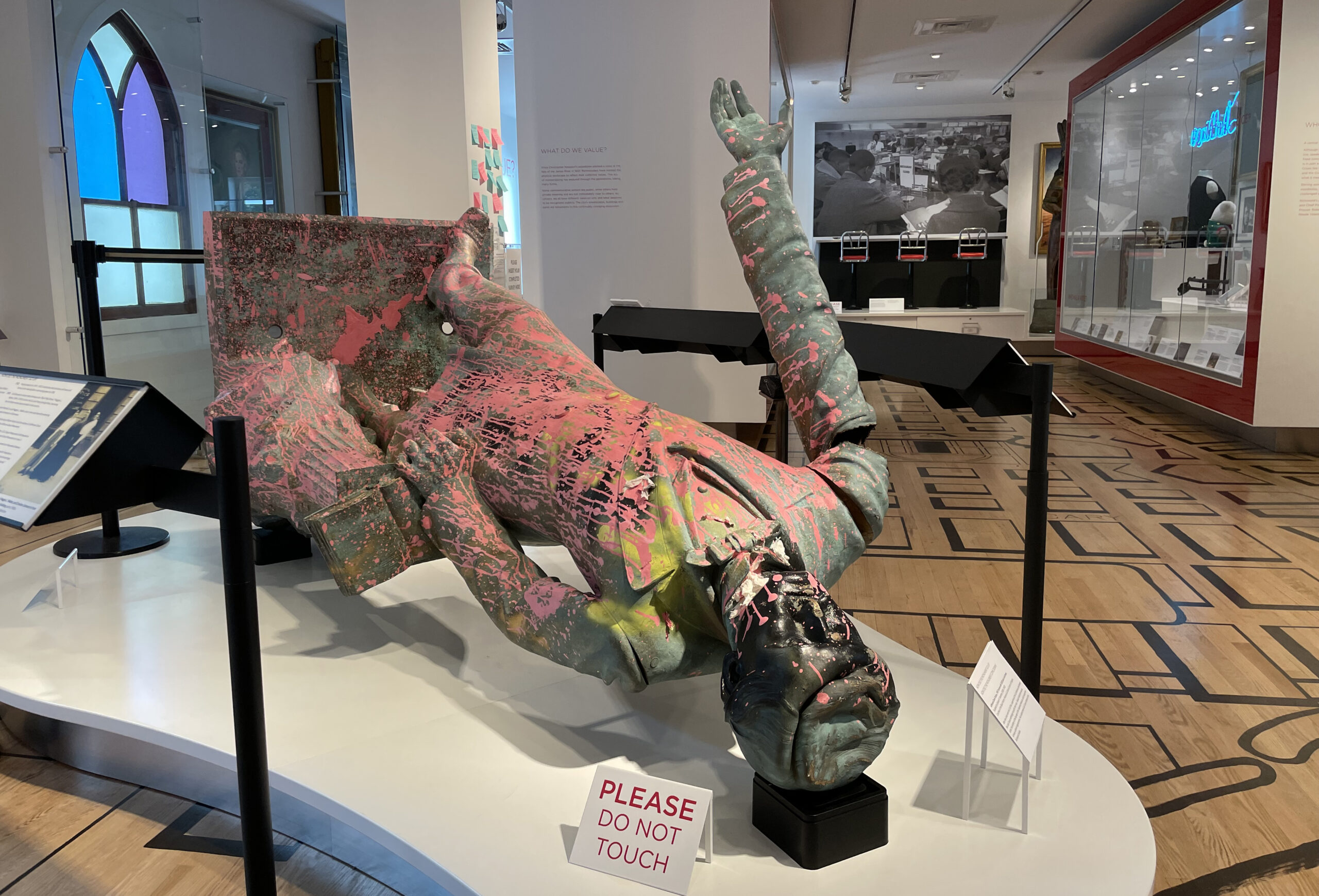 Guest Comment: Two Exhibits and "The Arch of Justice"
NEW YORK CITY— On a hot afternoon, I stand in line between two thin lines in the bright, air-conditioned atrium of the American Wing of the Metropolitan Museum of Art. I am surrounded by objects from the golden age. To my left is the bronze and gold "Diana" by sculptor Augustus Saint-Gaudens that once crowned Madison Square Garden. To my right is the colorful mosaic by Louis Comfort Tiffany that had adorned the jeweler's house. An ornately carved pulpit by Daniel Chester French, salvaged from a Manhattan church, stands behind me. My band is waiting to be channeled into a temporary show, "In America: An Anthology of Fashion." This is the annual exhibition of a long series of blockbusters sponsored by the Met's Costume Institute. Opening nights, known as the Met Gala, are often as dazzling as the shows themselves. Here, a few weeks ago at the prestigious fashion event, Anna Wintour and Tom Ford welcomed stars such as Blake Lively, Ryan Reynolds, Alicia Keys, Glenn Close and Austin Butler (the current 'Elvis') to the red carpet. on the screen).
But we didn't come just for haute couture, but for provincial reasons. Our hometown Valentine's Day History Center loaned three dresses from its nationally recognized costume collection to the expansive exhibit. The dresses are on display in the Met's period rooms in what the museum calls "freeze frames" of American fashion. Ranging from 1670 to 1915, the vignettes were curated by nine American directors, including Sofia Coppola, Martin Scorese and Chloe Zhao. Regina King, director of "One Night in Miami" and Oscar-winning actress, designed the placement of the Valentine's Day dresses in the Met's permanent Richmond Room. The wing, housing period pieces that originated elsewhere, is a maze of intimate galleries. The 1818 Shaker Retiring Room came from Mount Lebanon, New York. The living room designed by Frank Lloyd Wright in 1913 comes from the Francis and Mary Little House in Wayzata, Minnesota. The Richmond Room, a parlor in the William Clayton Williams House (built in 1810 and razed in 1938), was downtown on Eighth Street North, where the Federal Building now stands.
After passing through the front door of the reconstructed stone facade of the Branch Bank of the United States, a lost Wall Street landmark, we approach the period rooms. They are dimly lit to protect delicate garment fabrics. Thirteen of the Met's 30 period rooms host "An Anthology of Fashion." Our eyes adjust to make out the Richmond Room with its dark mahogany paneling, well-proportioned windows, and elegant panoramic "Monuments of Paris" wallpaper. The precious Valentine's cargo includes a trio of rare turn-of-the-century "afternoon" dresses created by Richmond designer and seamstress Fannie Criss Payne, who was African-American (1867-1942). Director King's painting shows Payne in one of her own dresses, standing proud as a client models one of her designs. Another figure, also donning a Payne original, watches as a young black seamstress, one of Payne's employees, works apart, symbolizing a woman breaking into one of the few areas accessible to black women at the turn of the- the last century.
My thoughts, while scrambling for space in the limited viewing area, went straight to imagining the emotions of Valentine and Met staff members as they prepared the elaborate dresses for display. I remembered Martin Luther King's statement in 1968 that "…the arc of moral righteousness is long, but it bends toward righteousness." Fannie Criss Payne was born to illiterate, formerly enslaved farmer parents in rural Cumberland County, Virginia, but her talent, energy, drive and sense of style catapulted her into the wealthiest and most affluent homes. Richmond fashion. Eventually, she owned a residence on East Leigh Street, a few doors down from the home of a black client, famed Richmond entrepreneur and civic leader Maggie L. Walker. Later, Payne and her husband moved to New York where they bought a house in Harlem. There she grew her business and designed for Hollywood royalty such as Gloria Swanson. Payne indeed had a whole arc, from post-Civil War Cumberland County to Richmond, through the Harlem Renaissance, and now into the 21st century, Fifth Avenue and the nations greatest art museum.
These are heady times for Valentine's staff, curators and management. While visiting the Met, I also thought about how Valentine had tenaciously sought earlier this year to borrow the baseless statue of Confederate President Jefferson Davis from its owner, the Black History Museum & Cultural Center of Virginia. . It is currently on display in the comprehensive "This Is Richmond, Virginia" Valentine's Day exhibit. Other exhibits range from Native American artifacts to a bust of Chief Justice John Marshall, to a downtown lunch counter where a civil rights sit-in took place.
On June 10, 2020, the bronze Davis, who had stood on Monument Avenue since 1907, now covered in candy pink paint and his face smashed, lay in the street. A noose of shredded toilet paper wrapped around her neck. As for the arch of moral justice, this damaged object now rests horizontally in the museum, which also exhibits the workshop of its sculptor, Edward V. Valentine. It's also poignant that Jefferson Davis lived just two blocks away in relative splendor as President of the Confederate States of America at the Confederacy's White House at 1101 E. Clay St. That's not the number of people who expected him to return to the neighborhood.
It is essential that we protect, exhibit and interpret valuable buildings and artifacts from the distant and recent past. They give credence to the "arc of justice" and to our resilience as individuals, communities and nations.
"In America: An Anthology of Fashion" continues through September 5 at The Metropolitan Museum of Art, 1000 Fifth Avenue, New York, New York, Admission. (metmuseum.org)
The Jefferson Davis statue is on display in the "This is Richmond, Virginia" exhibit on Valentine's Day through December 2022, 1015 East Clay St. Admission, but no admission fee on Wednesdays. thevalentine.org.