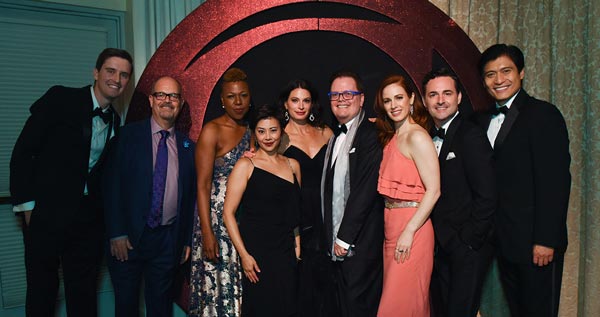 George Street Playhouse honors the Robert Wood Johnson, Jocelyn Schwartzman and Lora Tremayne Foundation at a gala
NEW | FEATURES | PREVIEWS | EVENTS
originally published: 06/24/2022
(NEW BRUNSWICK, NJ) — George Street Theater (GSP) –Jocelyn Schwartzman, Lora Tremayne; and the Robert Wood Johnson Foundation received the Thomas H. Kean Arts Advocacy Award at the George Street Playhouse Annual Gala on June 1, 2022. Dr. Richard Besser accepted the award on behalf of the Robert Wood Johnson Foundation. The awards were presented by the 48th Governor of New Jersey, the Honorable Thomas H. Kean.
"We are delighted to have honored our beloved trustees Jocelyn and Lora this year," said George Street Playhouse Artistic Director David Saint. "Their philanthropy, hard work and dedication have benefited the George Street Playhouse immensely. We are also very grateful to the Robert Wood Johnson Foundation for their support of the arts community. It is an honor to recognize the Foundation for its generous support for the Playhouse and trustees for their appreciation of the unique and valuable role that the arts, and in particular theater, play in society and the well-being of individuals of all ages and backgrounds.
The Black Tie Gala, held at the Palace of Somerset Park in Somerset, New Jersey, was attended by a number of dignitaries and featured a cocktail reception, silent auction and dinner. A special cabaret show punctuated the evening and featured Tony Award-nominated stage and screen stars Brad Oscar and Max Von Essen, Paolo Montalban in addition to George Street Playhouse stage favorites Jackie Burns, Teal Wicks, Laiona Michelle and Angel Desai, accompanied by Greg Kenna.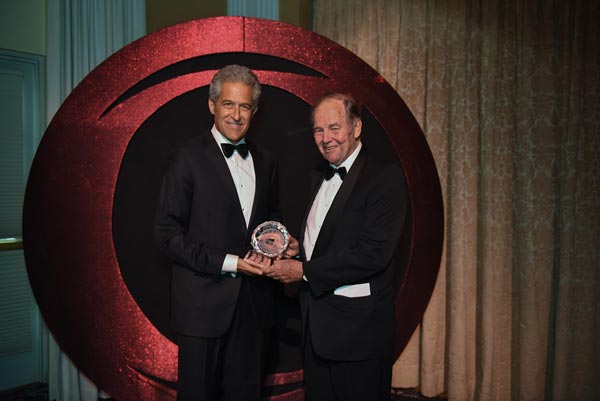 (Left to right) Dr. Richard Besser, President and CEO, Robert Wood Johnson Foundation, and the Honorable Thomas H. Kean. Photo by Egan Jiménez.
The Robert Wood Johnson Foundation (RWJF) – Since 1972, RWJF has invested more than $1.2 billion to improve health in our home country. Over the years, many of our grants have supported causes and issues that our founder, General Robert Wood Johnson, supported during his lifetime, including civic life, arts and culture. Today, RWJF builds on the Foundation's legacy in New Jersey, working to secure the promise of a healthier, more equitable state by addressing health disparities resulting from generations of structural racism. The Foundation's strategic grantmaking addresses three areas that are critical to health equity in New Jersey: maternal and child health; housing and community development; and reform of the public health system.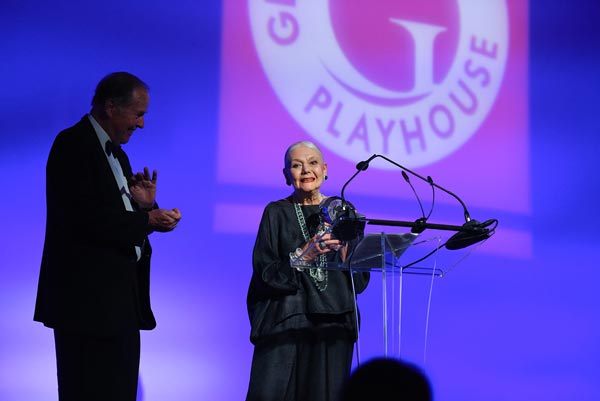 (Left to right) The Honorable Thomas H. Kean and Jocelyn Schwartzman. Photo by Egan Jiménez.
Advertise with New Jersey Stage for $50-$100 per month, click here for more info
---
Jocelyn Schwartzman – Since 1978, Jocelyn Schwartzman has been a dedicated member of the George Street Playhouse Board of Directors. She served as Vice President and helped establish the first annual fundraising gala as President for over two decades. Ms. Schwartzman was instrumental in moving the Playhouse to the former YMCA, our home for more than 30 years, and hiring Artistic Director David Saint.
With a background in fashion and design, including her work with the legendary Diane Vreeland at the NY Metropolitan Museum of Art Costume Institute, Ms. Schwartzman has guided the aesthetic of more than 100 special events at GSP and, at the invitation of the city ​​of New Brunswick, mounted an exhibit reflecting 300 years of dress for its tercentenary. She has devoted much of her time to the arts and philanthropy, including the UJA-Federation, Highland Park Temple, and American Repertory Ballet and its Dance Power program.
Mrs. Schwartzman and her dearly deceased husband, Herman, were married for 62 years and she is a very proud mother of four and grandmother of five.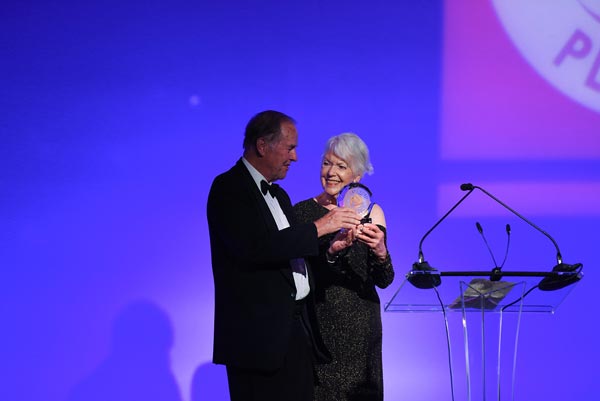 (L to R) The Honorable Thomas H. Kean & Lora Tremayne. Photo by Egan Jiménez.
Lora Tremayne – Lora Tremayne joined the board of the George Street Playhouse 40 years ago, serving as chair for three years when she spearheaded the creation of the Thomas H. Kean Arts Advocacy Award. She has been a dedicated member of the gala committee since its inception and served on the leadership search committee whose work led to the hiring of artistic director David Saint.
Ms. Tremayne's passion for the arts began in high school where she received a scholarship to study acting in college and it lives on through her belief in the power of the arts to enrich our understanding of the world and of others. Ms. Tremayne is dedicated to her community and her faith, raising funds for the Cerebral Palsy Association and volunteering with its church ministries, including the Altar Society and the Fish Hospitality Program.
Married for over 62 years to her beloved late husband, Bill, Mrs. Tremayne is very proud of their three children and 10 grandchildren.
---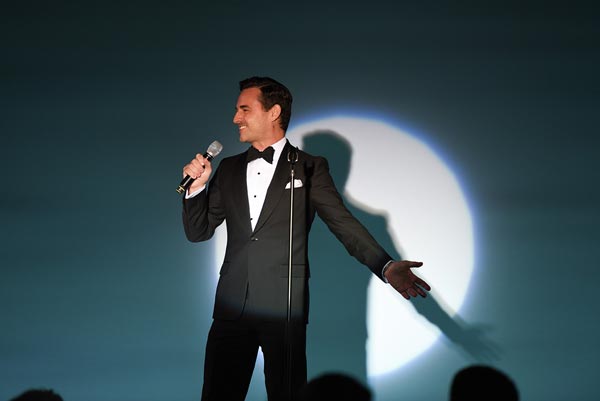 Max Von Essen. Photo by Egan Jiménez.
GALA COMMITTEE:
This year's gala was chaired by George Street Playhouse Board Chair, Penelope Lattimer, Ph.D. Dr. Lattimer also chaired the event's sponsorships in partnership with James N. Heston, Board Chairman administration.
Lora Tremayne and Jocelyn Schwartsman chaired the Commemorative Gala Journal; Janice Stolar chaired Tables and Tickets; Nonny Stalin and Paula Gentempo presided over Decorations. They were joined by committee members Joan Campbell; Janice Haggerty; Sharon Karmazin; Adele Macula, Ed.D; and Tracey O'Reggio Clark.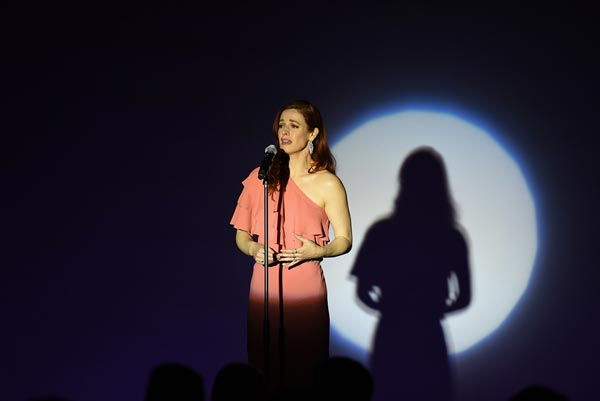 Teal highlights. Photo by Egan Jiménez.
Under Artistic Director David Saint since 1997 and General Manager Kelly Ryman since 2013, George Street Theater produces groundbreaking new works, inspiring productions of the classics and hit Broadway plays and musicals that speak to the heart and mind, with an unwavering commitment to producing new work. As New Brunswick's first producing theater, George Street Playhouse has become a cornerstone in the revitalization of the city's artistic and cultural landscape. With its 45-year history of nationally acclaimed theater production, the Playhouse continues to fulfill a unique role of theater and arts education in the city, state and greater metropolitan area.
Beginning with the 2019-20 season, George Street Playhouse moved to the New Brunswick Center for the Performing Arts in downtown New Brunswick. Featuring two state-of-the-art theaters – the 253-seat Arthur Laurents Theater and the 465-seat Elizabeth Ross Johnson Theater – and a myriad of amenities, the New Brunswick Center for the Performing Arts marks a new era in the esteemed story of George Street Theatre.
Founded by Eric Krebs, George Street Playhouse, originally located in an abandoned supermarket on the corner of George and Albany streets, was the first professional theater in New Brunswick. In 1984, the Playhouse moved to a renovated YMCA on Livingston Avenue, and in 2017 took up temporary residence in the former Rutgers University Agriculture Museum while its new home was built.
The Playhouse has been well represented by numerous productions both on and off Broadway. In 2018, George Street Playhouse was represented on Broadway with Gather the group which premiered on the main stage of Playhouse in 2013. American son, produced by George Street Playhouse in 2017, opened on Broadway in 2018 with Kerry Washington and Stephen Pasquale, and will appear on Netflix. Other productions include Outer Critics' Circle Best Musical Award winner The toxic avenger. In 2015, It should have been you opened on Broadway and Joe DiPietro's Clever little lies opened off Broadway. Both shows received their premieres at the Playhouse. Others include the Outer Critics Circle, Drama Desk and Drama League nominated production of The Spitfire Grill; and Broadway hit and Tony and Pulitzer Prize-winning play Evidence by David Auburn, which was developed at the Playhouse during the 1999 Next Stage series of new plays.
Inspired by EDNJ Arts Platforms and the New Jersey Department of Education's 2020 Visual and Performing Arts Learning Standards and culturally responsive learning research, George Street Playhouse has reimagined and designed new educational programs from the 22-23 season. The programs will prioritize the professional development of teachers and the learning experience of students and align academic work with teaching methods in the theater arts. Programs will emphasize social and emotional learning skills and prioritize the importance of equity, diversity and inclusion.
Programming at George Street Playhouse is made possible in part through funding from the New Jersey State Council on the Arts/Department of State, an agency partner of the National Endowment for the Arts. Funding for the grant was provided by the Middlesex County Board of Commissioners through a grant from the Middlesex County Culture and Arts Trust Fund.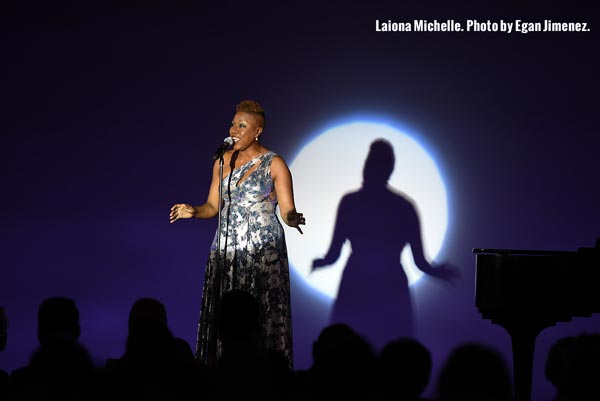 TOP PHOTO: (L to R) Greg Kenna, Brad Oscar, Laiona Michelle, Angel Desai, Jackie Burns, David Saint, Teal Wicks, Max Von Essen and Paolo Montalban. Photo by Egan Jiménez.