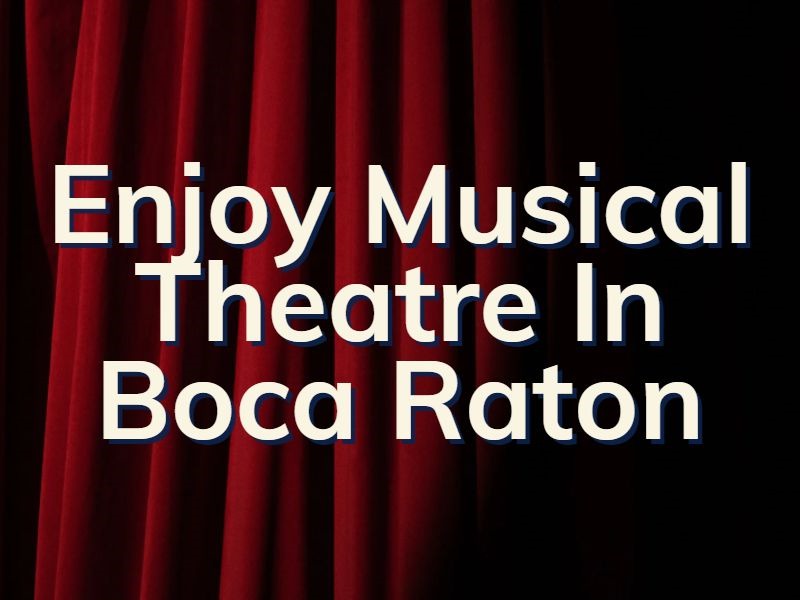 Boca Raton Musical Theater | Where to Enjoy Broadway Musicals Near Me
No one can deny the strong metropolitan influence that has invigorated Boca Raton in recent years. Much of this new traffic comes from places like New York, New Jersey and New England – and the shared adoration for musical theater in its many forms. The Tri-County area has long served as a stronghold for musical theater large and small, with Tony Award-winning plays such as Hamilton gracing our stages in recent years. From Broadway to Boca Raton, here are some of the best places to catch your favorite musical theater acts in the Boca Raton area!

The Showtime Performing Arts Center is a two-story, 125-seat theater that specializes in the enrichment and growth of the arts in Boca Raton. They have 5 teaching studios including private and group lessons in dance, singing, musical instruments and acting. The hard work and dedication of its wonderful teaching staff is showcased throughout its fall-spring season, with live screenings during its September-May season. They offer performing arts camps every season, even including audition prep classes.

Despite its maybe… misleading name, the Rocky Mountain Conservatory Theater is an extension of the St. Andrews community. Since 2007, the Rocky Mountain Conservatory has offered major performances, acting classes, summer camps, and more, all in the name of enriching our youth. The staff believe that theater is an allegory of life, and in the same way coaches use sport to enhance our youth, RMCT uses the arts to build community and grow as people.

This unique 155-seat theater sits deep within Sugar Sand Park, one of Boca Raton's most beloved natural parks. The Willow Theater can be attended Tuesday through Saturday, although times may change depending on the season. Better yet, did you know the Willow Theater can be rented? ! Visit their website to see if this beautiful yet intimate venue is the right place for your production.

We've mentioned The Wick many times, and as one of Boca Raton's best-known public venues, we never exclude this beautifully appointed and lush theater from our list. The Wick is in a prominent location on the Federal Highway, easily visible and accessible from all directions. Some of the biggest seasonal productions and touring events visit The Wick, and it's clear from the excited fans who leave each show that The Wick is doing something right.

Last but not least is the Boca Black Box, which is much bigger than a musical theater establishment. The Boca Black Box hosts live music, theatrical productions, comedy, and intimate gatherings around avant-garde style productions accessible to all. Come for a show, stay for the comedy and come back for something brand new. The Boca Black Box is a favorite for those looking for a variety of entertainment options, rather than a dedicated list of suitable subgenres.
For more arts and culture in Boca Raton – see below…
Historic Places in Boca Raton | 4 Beautiful Nightlife Spots in Boca